One thing running has helped me internalize is that my thoughts are powerful. Thoughts, and the direction they take, can be the difference between having an amazing run and having a run that is torment. I've also learned that even when I'm having a run full of self-doubt and general suckage, I need to keep moving forward, just one foot in front of the other, in order to come out the other end. Stopping during a run, even one that feels awful, is never an option because then the negativity wins, and I get stuck there — and I will never let negativity win. I remind myself often that mentally or physically tough runs can be a gift, because those are the runs that steel you, that teach you what you are made of.
A few days ago I wrote a blog piece entitled "PETA's Silence About Cyber-Stalking Speaks Volumes." I don't want to go into detail about the cyber-bullying and stalking that continues on Twitter, simply because I'm not giving a troll, or trolls, any more air than I am forced to. And because, in order to balance out the negativity, I think it's time for a blog that focuses on being fearless.
Today a friend of mine tagged me in a video of a fearless woman who just ran the International Pars Marathon in Iran, which women are banned from running. But one woman, a woman names Mahsa Torabi, made the incredibly brave decision to run the marathon. She is a woman paving the way for other women, and girls, who will follow in her footsteps.
Running has taught me that I am stronger than I think, that I can do more than I believed myself capable of doing, that I can push through pain and come out the other side feeling unstoppable. And I am constantly inspired by my fellow runners — both female and male. I love my tribe beyond the telling of it. I love their positivity, I love how supportive they are, I love how freely they share their stories, I love how they are largely non-judgmental of other runners. I love that it's a given that we each run our own race, at our own pace, but that we are all in this crazy-ass tribe together.
And I couldn't ask for better role models for my children.  Meb Keflezighi is an absolute favorite in our house, and whenever I need a pick me up I watch this video of his victory at the Boston Marathon the year after the bombing:
Because how can you help but smile from ear to ear after watching that? Now that I've mentioned our love for Papa Meb I'll go back to the women.
Deena Kastor is another favorite in our house: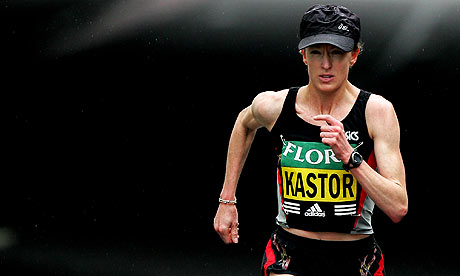 and any mention of her name is usually followed by my oldest saying "she's such a beast!"
Lauren Fleshman, whose sense of humor and outspoken advocacy for body positive thinking I admire every bit as much as the fact that she is a kick-ass runner:
The three women who will be representing the US in the next Olympics — Amy Cragg, Des Linden, and Shalane Flanagan. It was a thrill to watch them run in the trials and we will be on the edge of our seats when we watch them compete in the Olympics:
Kara Goucher, whose running is as inspiring as her absolute unwillingness to accept anything of herself that is less than what she can give. And she has the most infectious smile!
And, of course, Kathrine Switzer, the first woman to officially run Boston:
Kathrine is a trailblazer for women in running, and was my first running hero. She has dedicated her life to bringing girls and women into running and now heads up 261 Fearless, an ever-growing organization that helps women join together in running and being fearless.
I am a very ordinary runner. But running empowers me, makes me feel strong, and I know I run in the footsteps of giants. Women who have come before me and fought for my right to do something I love, for my daughter's right to run and compete. And women who are still fighting for themselves and others being held back by misogyny and bigotry. And the runners around me — both physically and virtually — inspire me every day. Sometimes when I need strength on a run I think of Deena Kastor and Kara Goucher. Sometimes I think of a woman I saw during a race we ran last time we were home. Eric and I had already gotten our bananas and Gatorade, we'd hung around for a bit soaking in the atmosphere and cheering runners as they crossed the finish line. Then we'd decided to head home, walking along the race route. I was clapping for the runners who were passing when I saw a woman running, she had the same look on her face that I'm sure I get when a run is really tough. I stopped walking and started clapping harder for her, I shouted encouragement — she looked up from the street and at me, got a huge smile on her face, nodded as if to say "you're right, I've got this" and ran faster towards the finish line. She inspires me — her unwillingness to give up inspires me.
Sometimes in running you just have to remember it's only a matter of putting one foot in front of the other, everything else is secondary. Which is pretty much how life works in general. One foot in front of the other, cherish the joy, know you can make it through the pain, soak in the beauty around you, get lost in the sound of your own heartbeat, smile when you feel like you can't, don't let negative thoughts ruin the gifts in your life, embrace your tribe wholeheartedly, and, always, always, always …